Begin main content: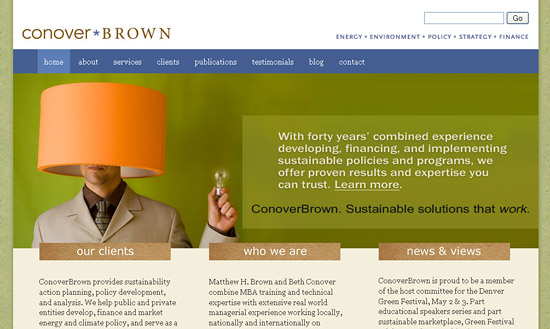 Project
ConoverBrown
Lifecycle: February 2009 - March 2010
www.conoverbrown.com *merged into econover.com
Goal
Create an online presence for the merger of two consultancies.
Scope of Work
In such a fast-growing industry, it can be hard to distinguish the leaders from the pack. When decades-long sustainability experts Matthew Brown and Beth Conover decided to merge their practices, it was more important than ever to differentiate their unique experience. Tongue-in-cheek imagery and a low-key tagline serve up easygoing personality that's not too serious. The full-featured Wordpress-driven site uses a custom theme with an understated palette of green, orange and cornflower blue, along with subtle texturing. And the funky logo? Handcrafted by *shine*. The final result: fresh, confident and cutting-edge, just like the creative solutions ConoverBrown is known for developing.
Production Services
Identity strategy, design & messaging
Custom Wordpress theme (PHP, XHTML, tableless CSS)
Wordpress installation (MySQL)
Wordpress plug-in configuration
Carbon-free certification by Co2Stats
End of main content.