Begin main content: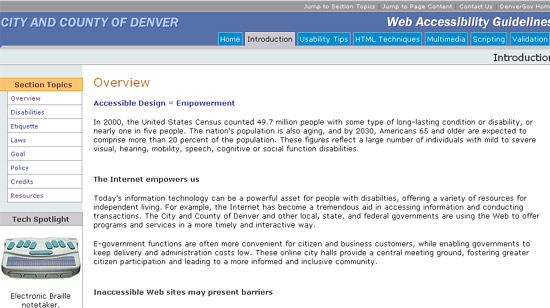 Project
Web Accessibility Guidelines
City and County of Denver
Created: 2004

Goal
Draft a policy and a set of guidelines addressing usability and accessibility for the city's Web site.
Scope of Work
This was the companion site for the city's technology accessibility initiative. Designed as an educational resource, it compiled and presented available industry resources and best practices for Web design; defined standards for page layout, design, multimedia, scripting and other page components; and outlined a testing process to identify accessible and non-accessible Web pages.
For this project, I researched the accessibility statements and programs of many government and educational organizations and found that most had strong policies but they didn't delve much into technical guidelines. At the same time, I heard complaints from many people that they had trouble interpreting the technical requirements set forth by the W3C's Web Accessibility Initiative.
I aimed to create a site that would break down some of that technical jargon and serve a larger audience, including the city's Web developers and content experts, city management, elected officials, and the general public.
I relied on expert sources and my own knowledge to author detailed information about how different Web design techniques impact the lives of people with disabilities. I heavily promoted awareness about assistive technology, and references were included throughout the text along with a "Tech Spotlight" section on each page containing rotating photos of AT devices.
Each section offered an essay to explain that topic's common issues and best practices followed by specific W3C or Section 508 requirements, along with concrete examples. To serve as an example itself, I developed the site with W3C-compliant XHTML and tableless CSS.
Recognition
I was awarded the 2005 Assistive Technology Award by the Denver Mayor's Commission for People with Disabilities for my work on this project.
Sample Content
These are some pages from the "Usability Tips" section, one of six main categories for the site.
End of main content.