Begin main content: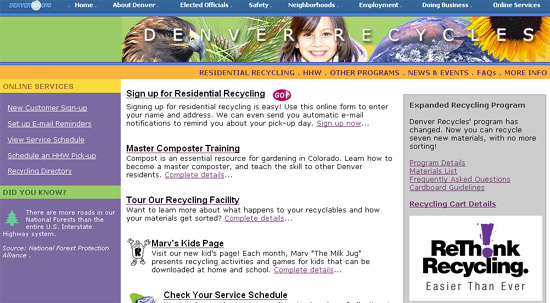 Project
Denver Recycles
City and County of Denver
Created: 2003-2005

Goal
Build a friendly Web site to complement an educational and marketing campaign for a transition in recycling collection services.
Scope of Work
This comprehensive site presented Denver Recycles program information, brochures, customer service details, fun recycling facts, educational resources, and other online features.
In early concept meetings, their management staff and I outlined the site's information architecture, relying on existing brochures, flyers and examples of similar Web sites. With a strong content plan, I created the site's design using the colors and graphical identity of their marketing literature.
Under their direction, I shaped and edited their copy and also provided supplemental text and several original graphics, including the site's banner. I supervised the work of a developer who created three interactive features, including a service sign-up application, a service schedule database, and a hard-to-recycle directory. Additionally, video clips from public service announcements were included, along with text transcripts and high-contrast color combinations to facilitate accessibility.
A wonderfully exciting collaborative effort, I had the opportunity to work with Denver Recycles staff again in 2005 to revise content on the site for their ReThink Recycling campaign.
End of main content.