Begin main content: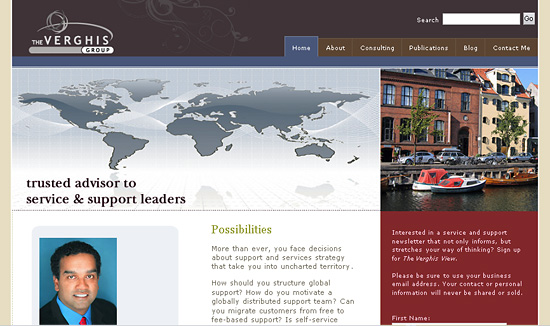 Project
The Verghis Group
Created: February 2008
www.verghisgroup.com
Goal
Redesign the Web site for an established information technology consultancy.
Scope of Work
As a renowned IT management advisor, Phil Verghis eschews conventions and traditions.
This innovative thought leader continually strives to streamline complexity. What better foundation for his redesign than a robust site powered by Wordpress? No clunky, over-featured, high-maintenance CMS here! All the intricacy stays behind the scenes.
Personalized, flexible page templates make it easy to promote upcoming speaking engagements and announcements on the home page. An integrated third-party newsletter service lets him manage his existing subscriber list, and a blog offers opportunity to reach out to new audiences.
Photos that reflect rustic simplicity, along with muted shades of mustard, raisin, pea, lavender, Falu red and Provencal blue, bring intrigue and flavor to the design and appeal to a global client base.
Production Services
Visual design
Custom Wordpress theme (PHP, XHTML, tableless CSS)
Wordpress installation (MySQL)
Wordpress plug-in configuration
End of main content.