Begin main content: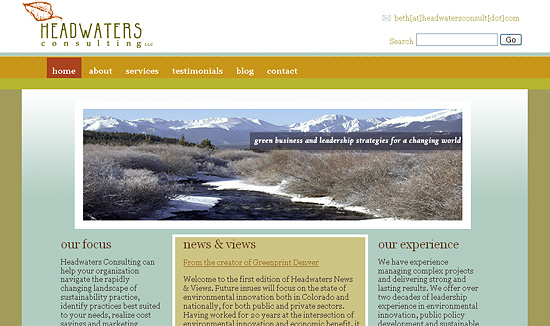 Project
Headwaters Consulting
Lifecycle: December 2007 - February 2009
www.headwatersconsult.com *merged into conoverbrown.com
Goal
Build an online presence for a new sustainability consulting practice.
Scope of Work
It's easy being green. But nowadays, it seems that everyone's using the color green. Lime green, in particular...and Mac-inspired 3D buttons...and pastels. In today's competitive green business market, if everyone looks the same, then who's really on the cutting edge?
This Wordpress-driven site featured a custom theme with a fresh palette of light teal, khaki, gold and tomato red. It had a custom PHP sign-up form for an easy way to attract e-mail subscribers, and the client was able to update content, add new pages and publish news announcements via a blog. The funky logo was handcrafted by *shine*.
The final result: a simple, clean and personality-infused design that reflected the bold, innovative thinking for which Headwaters Consulting principal Beth Conover is known. Trend-setting, not trendy - now that's leadership.
Production Services
Visual design
Custom Wordpress theme (PHP, XHTML, tableless CSS)
Custom newsletter sign-up form (PHP)
Wordpress installation (MySQL)
Wordpress plug-in configuration
Get an in-depth look at this site's design.
End of main content.