Begin main content:

For case studies, click on thumbnails below or use the navigation on the left.
For information on my personal projects, please visit my
portfolio on Behance
.
Retro-inspired, this Buddypress website delivers a powerful platform for multi-author publishing and easy board transitions while laying the groundwork for evolution of portfolio pages and other member features to showcase Colorado's outstanding creative community. This is an ongoing pro bono collaboration.
Press release | Visit website
As the Special Court for Sierra Leone completes its proceedings in 2012 and closes an era, its legacy projects hold the promise of advancing the practice of international criminal law. This Buddypress-driven pilot website aims to help nations share. More »
Island time should never be wasted. When your business operates in paradise, technology hassles just harsh your mellow. A high-performing website gave this luxe property a competitive edge. Agency quality, with handcrafted style. More »
In the Bahamas, the conch's lifespan has been reduced by more than 80 percent from overharvesting. A new logo and website gave this emerging nonprofit a professional foundation to present their groundbreaking marine sustainability research. More »
The blog-inspired companion website to How the West Was Warmed, a collection of essays from contemporary sustainability experts about climate change in the West. Visit website »
A bold web presence helped two sustainability experts merge their consultancies and establish their role as industry leaders. More »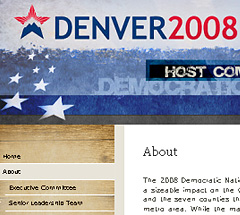 DENVER 2008 CONVENTION HOST COMMITTEE
A fresh CSS skin and professional content management transformed this website into a popular media resource that showcased Denver to the world during the Democratic National Convention. More »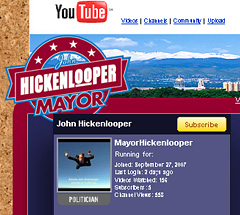 YOUTUBE CHANNEL - MAYOR HICKENLOOPER
In 2008, not many mayors had their own YouTube channel. Denver's did. Using his signature logo and some funky graphics, Then-mayor John W. Hickenlooper's online presence was as amiable as the man himself. More »
For the first redesign in four years, The Verghis Group wanted to kick it up more than a just few notches. This custom Wordpress-driven site gives owner Phil Verghis control over content from anywhere his international consulting practice takes him. More »
A no-fuss, feature-rich Web site helped this new business build a strong online presence fast. Every section of the site was editable by the owner via Wordpress' easy publishing system. More »
Showcasing a mayoral initiative, this site's rich, earthy color palette wrapped high-impact visual intrigue around Web 2.0 components, events feeds, PHP input forms, and an integrated blog. More »
End of main content.